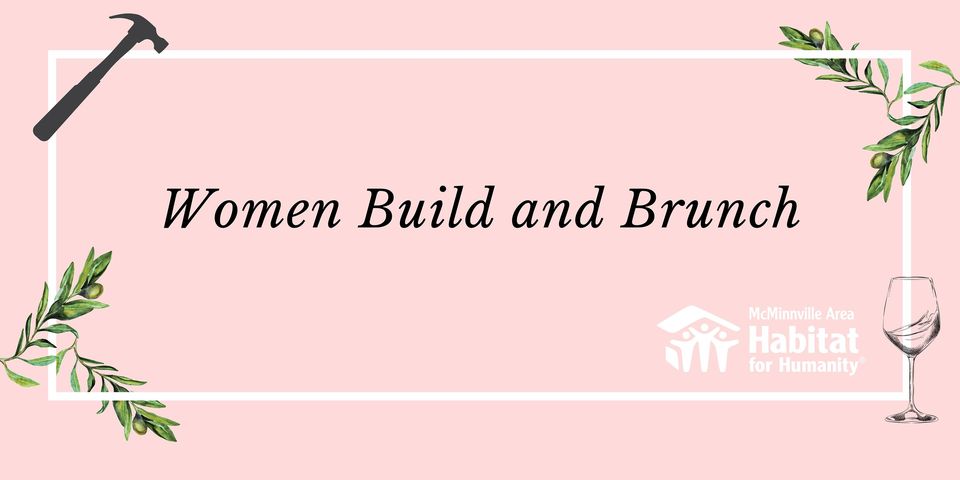 Thank you to all who participated in the
Women Build and Brunch!
Thank you to our generous partners who donated and/or volunteered for this event:
Special thank you to our event host – Momtazi Family – Maysara Winery
A to Z Winery
Amanda Pewonka
Beth Syphers – Crowley House
Chip Ford & McMinnville HS
East Creek Art
Erin Bowman
Fairsing Vineyard
First Federal Bank
Gioia Goodrum & Kathie Byers
Hannah Curry
Harvest Fresh
J.L. Kiff Vineyard
Kevin Curry
Lara O'Brady
Marianne Mills
Mike Bittle
Patty Haddeland
Polinate Flowers
Rose Schneider
Sarah Gradwohl
Starbucks
Trisha House
Virginia Carlson

Women Build and Brunch Committee:
Ann Russell – Co Chair
Tara Quincy – Co Chair
Anne Nisbet
Bridgette Rappoport
Deborah Brooks
Hanna Momtazi
Women Build and Brunch 2021 event pictures –
use the arrow on the righthand side of the photo gallery to SCROLL through the photos!
SAVE THE DATE!
Our next Women Build and Brunch event will be Saturday, May 14, 2022
Help us Build a Home!
If you were unable to make it and are looking for other ways to help, just $15 supplies a bathroom faucet. $50 paints a living room. We welcome donations large and small!
What is Women Build?
Women and their children are the population most affected by poor living conditions.  Women Build, a Habitat for Humanity International initiative, provides the opportunity for women to take a proactive step in making a positive impact in the lives of our homeowners.
Meet our 2021 Women Build Homeowners – the Martinez Family!
Ways to help our Women Build!
Meet Our Women Build Families