Please note that there are additional donation items the ReStore is not accepting at this time, due to overwhelming inventory levels. Please see below for the full list of items we are and are not able to accept.
Thank you!
Display your name in our ReStore for World Habitat Day!
Celebrate World Habitat Day at the MacHabitat ReStore – throughout the entire month of October!
From now until October 27, visit the ReStore and make a donation in honor of World Habitat Day to have your name on a home! The homes will be on display throughout the month – and all donations will support the construction of REAL homes right here in our community.
Come on in! We're open Tuesday-Saturday, 10am-4pm.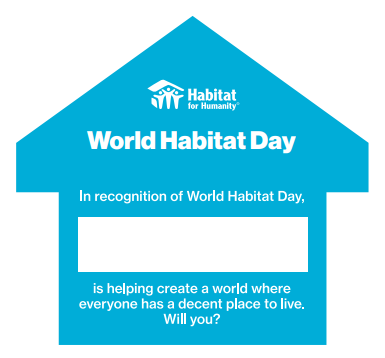 ReStore Shopping
Hours- 10am-4pm, Tuesday-Saturday
To our valued Customers,
Customers will need to take their item with them at time of purchase. If a customer is unable to transport the item, we will put a hold on it until 4 pm (the end of that business day) so they may arrange for transport. We will not allow the customer to purchase the item until they are able to take it with them. We also will not allow a customer to hold an item until the next business day, unless it is the end of the day and they do not have time to arrange transport before closing time. All items MUST be taken with a customer at the time of purchase!
ReStore Donations
To our valued Donors,
ReStore will no longer require appointments for donation drop offs on designated donation days. Beginning January 3, 2023 – ReStore will receive donations Tuesdays through Saturdays between 9am – 3pm.
Upon arrival at the ReStore parking lot, please wait for Receiving staff to inspect your donations. At times our staff may be busy helping other donors and we appreciate your patience. All items MUST be inspected by our staff before being accepted. Please DO NOT unload donations until inspected. Sometimes we cannot accept an item for reasons such as inventory levels, condition of the item, or knowledge that the item may not sell well at ReStore. Our Receiving staff has knowledge of what does and does not sell well at ReStore, and therefore will make final determination about what items we can or cannot accept.
We are happy to provide information about other organizations that may be able to accept your donations. We are better able to serve our community when we follow these guidelines and make sure items find homes rather than end up in the landfill! General information about the items ReStore can and cannot accept can be read below. If you have any questions regarding donations you can call ReStore Manager Caleigh Hoffman at 503-687-1410.
Thank you!
At a Habitat for Humanity ReStore, you can support our efforts to build homes for hardworking Oregon families and adopt the powerful environmental ethic: reduce, reuse, recycle.
The McMinnville Area Habitat for Humanity ReStore accepts new or used building supplies, appliances, and many other items. Most building materials and home furnishings that are in good condition can be recycled through the ReStore, saving you landfill costs and providing a tax deduction as well. The ReStore resells your new and used items (as well as corporate donations) for 50% to 70% below retail prices. All profits from ReStore sales assist our McMinnville Area Habitat affiliate in reaching their mission to partner with low-income families by offering homeownership opportunities through the construction of simple, safe, and affordable homes.
Donate Materials
Donation guidelines are strict. Appliances must be complete and in 100% working order. Dishwashers must be less than 5 years old, and all other appliances less than 10. Other items must be in good shape, and in useable sizes. For example, plywood and sheetrock must be at least 1/2 sheets; lumber in full lengths, all carpet must be new, no used carpet. For details on the guidelines, see below.
Your contributions are welcome . . . and needed. Every donation helps toward providing adequate housing to those in need.
Donate Funds Online to the ReStore
If you would like to contribute financially to the ReStore, this will help support our efforts to build homes for hardworking Oregon families and adopt the powerful environmental ethic: reduce, reuse, recycle.
Make a Cash Donation
Please do not send cash through the mail; if you would like to make a cash donation, please bring it by our office at:
1024 SE 1st Street,
McMinnville, OR
Call: 503-472-9637
Shop our ReStore online!
Want to shop for all of the wonderful household items you find in our ReStore – from the comfort of your home? Coming soon – we will have online shopping for ReStore merchandise!
Volunteer at ReStore
The ReStore is now seeking volunteers! The ReStore is open Tuesday-Saturday 10am-4pm. Volunteer for the day or for a few hours, whatever works best for you! This volunteer opportunity consists of, but is not limited to:
assisting customers
pricing
maintenance of the store
organization of merchandise
receiving (unloading and loading donated materials and merchandise)
ReStore volunteers are expected to be courteous and professional, to communicate with people of diverse backgrounds, and to be good overall representatives for our organization. This is a fun, flexible team environment!
If you are interested in volunteering with us, or for more information please contact MacHabitat at 503-472-9637 ext. 7 or email: volunteer@machabitat.org.

1040 SE 1st Street
McMinnville, OR 97128