Nine Steps to Home Ownership
From Qualifying to Moving In
Step 1 – Determine Qualifications
Step 2 – Contact Us to Apply
The process of applying for to the Homeownership Program begins by contacting us. Please call (503) 687-1415 or email the Program Coordinator, Jennifer Lyon at jennifer@machabitat.org. You will be given more information about the program, offered the application materials, and invited to attend an optional Q & A session via Zoom.
The Q & A Session is highly recommended. It provides an opportunity to learn more about our program and the application process. Whether or not you attend a Q & A Session, you can always visit or call our offices with questions during the application process.
Step 3 – Submit Your Application
During our open application window, you may submit an application with all required documentation – mail or deliver the application to the Habitat office. The information will be reviewed by the Family Selection Committee to determine if you are eligible to continue the process toward becoming a Habitat homeowner.
Step 4 – Schedule a Home Visit
If you meet our initial eligibility requirements, then a home visit will be scheduled to evaluate your household's preparedness for homeownership.
Step 5 – Await Approval
If you are approved by McMinnville Area Habitat for Humanity's Board of Directors, then you will be notified and can get started on the Homeownership Program requirements!
Step 6 – Education & Volunteering
Our Homeowner Support Committee will guide you through the process of becoming a homeowner through Habitat. This includes taking homebuyer education classes and completing a minimum of 250-500 "sweat equity" volunteer hours. Sweat equity is an exciting learning experience in which you work with family, neighbors, and friends to build other homes as well as your own. Hours can be earned on the construction sites, at special events, in our ReStore, or in the office.
Step 7 – Begin Construction
You will continue your sweat equity hours throughout the construction process of your new home.
Step 8 – Your Home Dedication
Habitat staff, volunteers, and sponsors who have been with you every step of the way gather with your family and friends to dedicate your new home!
Step 9 – Move in!
Lifetime Partnership: After we close on the house, you move in! Habitat homeowners are expected to remain engaged with Habitat's mission by staying in good communication with Habitat, making timely mortgage payments, and assuming an active role in their neighborhoods and as mentors to new families entering the process.
Meet our current homeowner partners!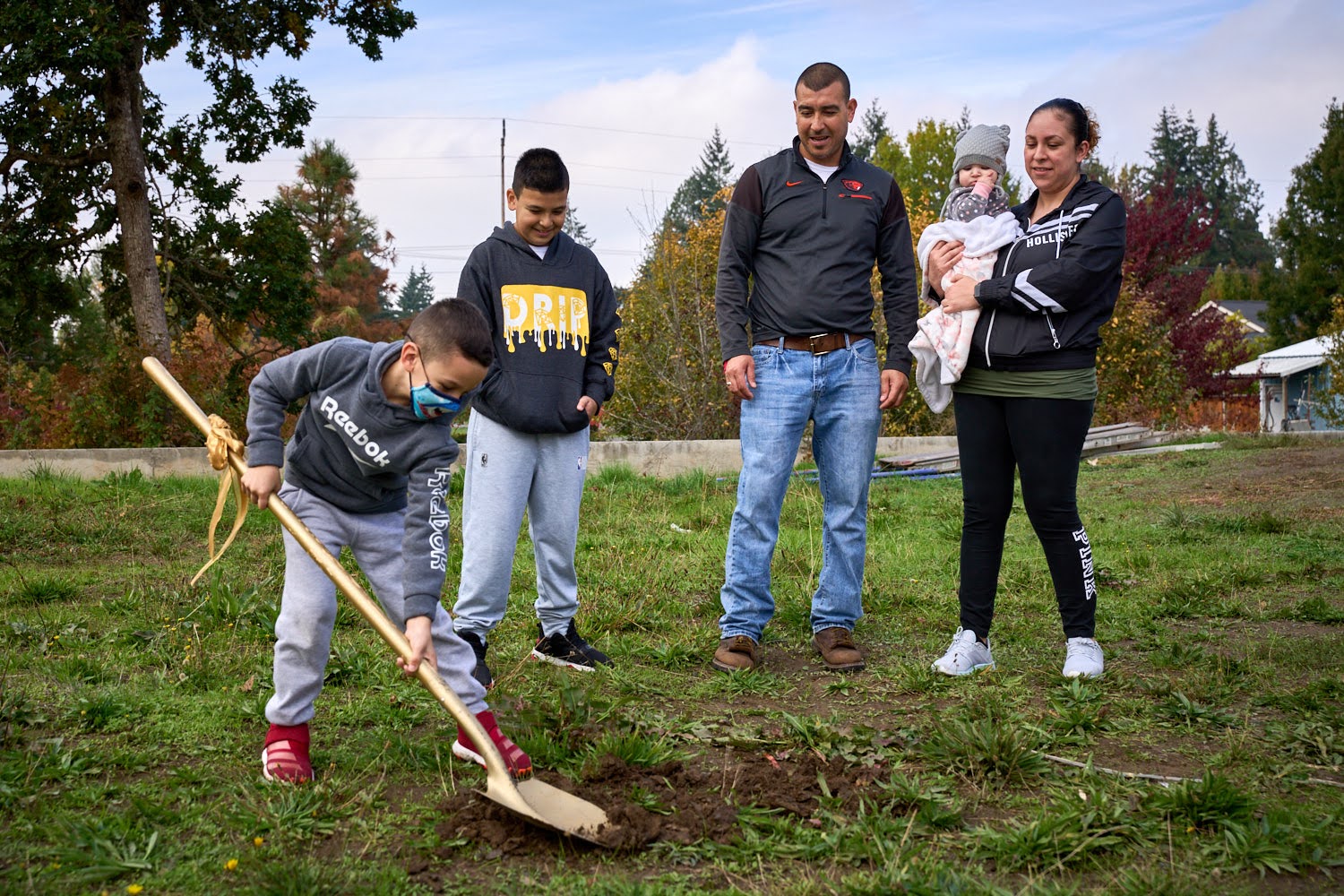 The Home That Wine Country Built
Meet our current Homeowner Partners – the Gonzalez Family! Maria Ana, Eliazar, Emiliano, Hazael and Camila.
The Gonzalez family will be living in The Home That Wine Country Built, a fundraising, building, and community project of the Willamette Valley Wineries Association (WVWA).
The 2-bedroom apartment where the family currently lives in small for this growing family. They have made space for the baby's crib in the closet of the parents' bedroom. The apartment complex is not safe enough for the young boys to play outside or to ride their bikes. The work orders to the manager can take almost a year to be addressed, so Eliazar has taken it upon himself to learn how to fix things around the apartment. We are excited for him to bring his skills to the Habitat construction site when he helps build his home!
The family looks forward to playing in Aspire Park and the boys have dreams of putting a trampoline in their back yard. Mom Maria Ana has told them they need to get a new piggy bank to start saving!