Nine Steps to Home Ownership
From Qualifying to Moving In
Step 1 – Determine Qualifications
Step 2 – Contact Us to Apply
The process of applying for to the Homeownership Program begins by contacting us. Please call (503) 472-9637 or email the Family Services Coordinator – michelle@machabitat.org. You will be given more information about the program, offered the application materials, and invited to attend an optional Orientation Session.
The Orientation Session is optional, but highly recommended. At the Orientation Session, you will learn more about our program and the application process. Whether or not you attend an Orientation Session, you can always visit or call our offices with questions during the application process.
Step 3 – Submit Your Application
During our open application window, you may submit an application with all required documentation – mail, fax, or deliver the application to the Habitat office. The information will be reviewed by the Family Selection Committee to determine if you are eligible to continue the process toward becoming a Habitat homeowner.
Step 4 – Schedule a Home Visit
If you meet our initial eligibility requirements, then a home visit will be scheduled to evaluate your household's preparedness for homeownership.
Step 5 – Await Approval
If you are approved by McMinnville Area Habitat for Humanity's Board of Directors, then you will be notified and can get started on the Homeownership Program requirements!
Step 6 – Education & Volunteering
Our Homeowner Support Committee will guide you through the process of becoming a homeowner through Habitat. This includes taking homebuyer education classes and completing a minimum of 250-500 "sweat equity" volunteer hours. Sweat equity is an exciting learning experience in which you work with family, neighbors, and friends to build other homes as well as your own. Hours can be earned on the construction sites, at special events, in our ReStore, or in the office.
Step 7 – Begin Construction
You will continue your sweat equity hours throughout the construction process of your new home.
Step 8 – Your Home Dedication
Habitat staff, volunteers, and sponsors who have been with you every step of the way gather with your family and friends to dedicate your new home!
Step 9 – Move in!
Lifetime Partnership: After we close on the house, you move in! Habitat homeowners are expected to remain engaged with Habitat's mission by staying in good communication with Habitat, making timely mortgage payments, and assuming an active role in their neighborhoods and as mentors to new families entering the process.
Meet our current homeowner partners!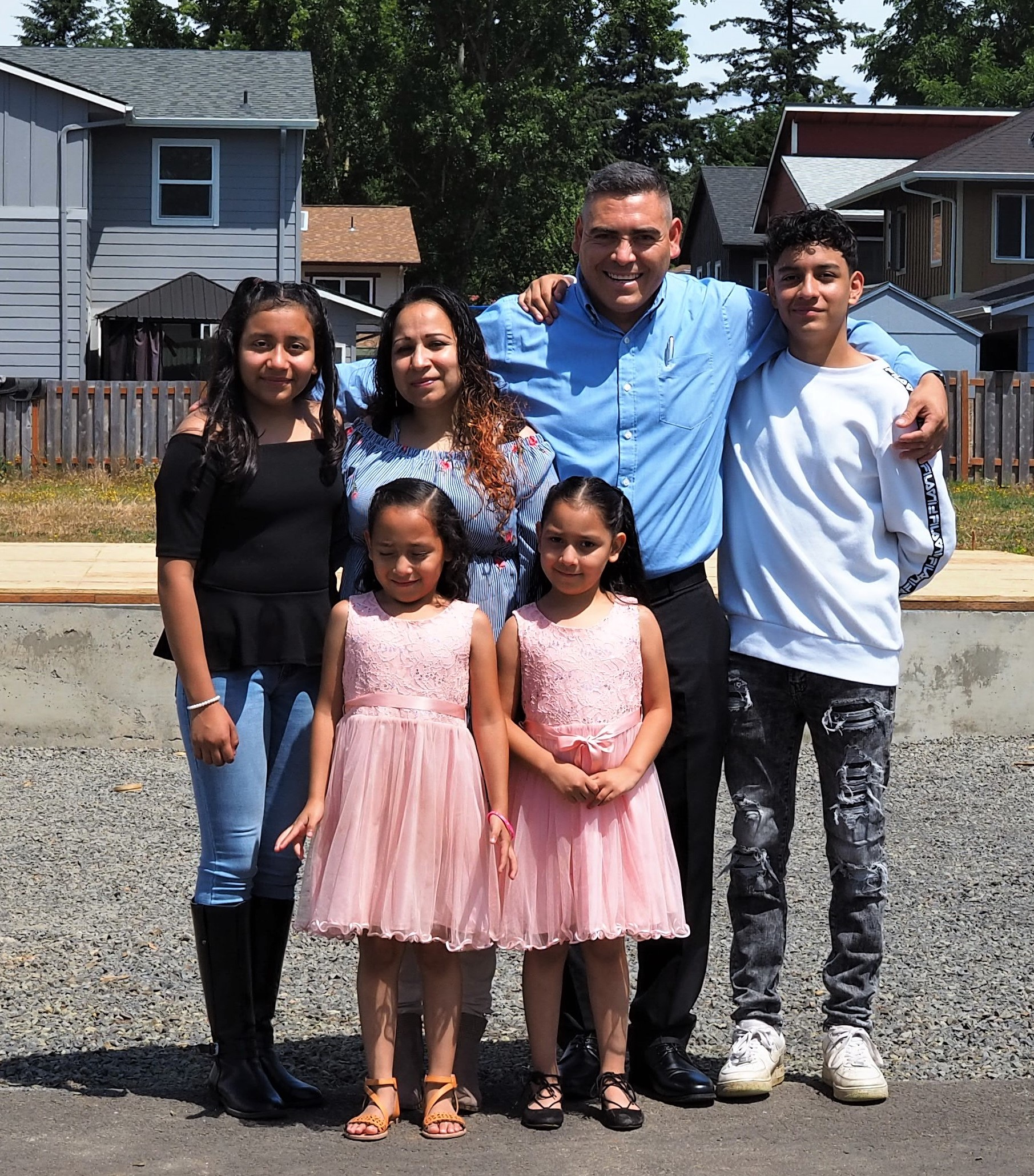 2021 WOMEN BUILD
MacHabitat partners with low-income families (40-65% of the Area Median Income) to provide homeownership opportunities. In Yamhill County, where 11.4% of residents and 15% of children under the age of 18 live in poverty, the lack of affordable, decent housing is at critical levels. Beginning in 2016 and continuing through 2020, one of these families per year has been selected for a Women Build project. Women Build provides:  1) a safe, decent, affordable home for a family in need; and 2) empowerment opportunities to local women through construction skills classes and community engagement.
Although most of our previous Women Build homeowners have been single mothers, the 2021 Women Build homeowners will be married couple, Jose and Maria Martinez. Jose and Maria currently live in a barely habitable mobile home with their five children: Eduardo (15); Myra (12); Soriha (8); Nataly (7); and infant Maritza.  With so many females in the household, Women Build is perfect for this family!
The mobile home in which the family lives has three tiny bedrooms, one of which was converted from a closet.  The home is in extremely poor condition as it is sliding off the foundation, the back door is unusable leaving just one exit from the home, only half the burners on the stove work in the small kitchen, there is no storage space and poor ventilation. Mold in the apartment exacerbates Eduardo's asthma.  Despite the family's best efforts to clean, caulk, repair, and paint, the home is falling apart. Even worse, the neighborhood is unsafe for the children to play outside.  Despite frequent police patrols in the area due to high levels of criminal activity, the children cannot walk to the nearby park without adult supervision.
The family has searched for better housing but cannot find anything affordable in the area.  They dream of a day when their children will have a safe, decent home with real bedrooms, room to study and play, and a nearby park. They wish for a home of which they can be proud! They are excited to partner with MacHabitat and have already begun volunteering at the construction site helping to build their future neighbors' homes.