Mystery & Mayhem at the Atticus Hotel
February 8, 2020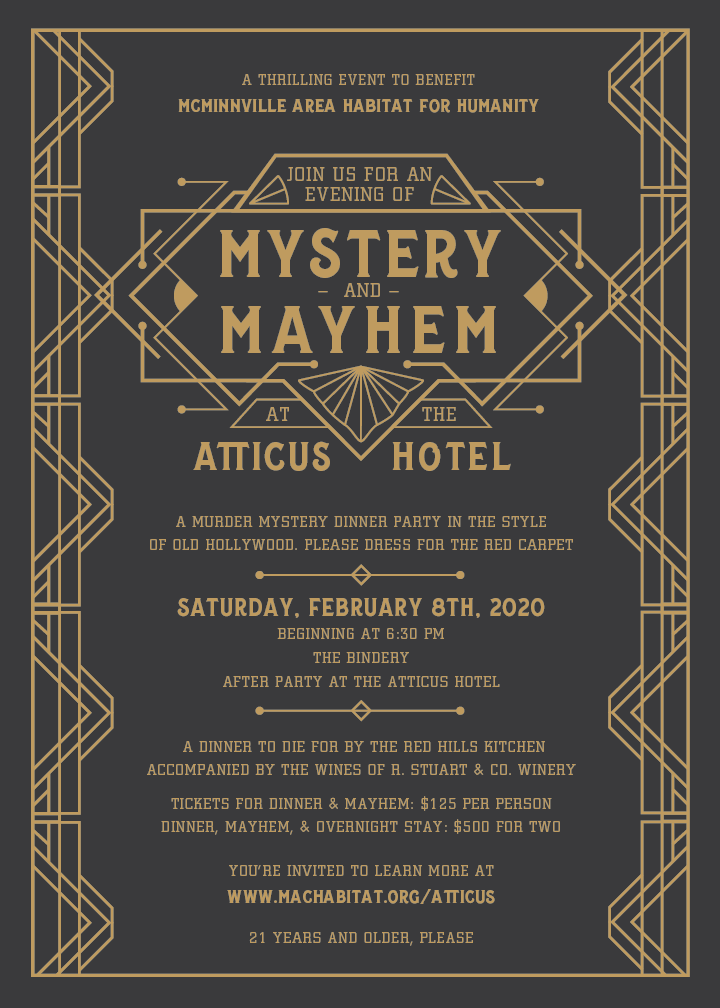 Click here to register! Or contact Mary Stern at mary@machabitat.org or 503-687-1411.
MacHabitat is partnering with the Atticus Hotel, the Bindery Event Space, Red Hills Kitchen,
and R.Stuart & Co. for a thrilling fundraiser on Saturday, February 8, 2020. An Old Hollywood
Murder Mystery Dinner invites guests to dress for the red carpet and indulge their inner sleuth
while enjoying amazing local food & wine. Further mystery & mayhem await at the Atticus Hotel
After Party. Dinner tickets are $125 per person; packages with a room and dinner for two are $500.
McMinnville Area Habitat for Humanity (MacHabitat) has been bringing people together to
build homes, community, and hope since 1991. To date, we have built 61 homes for and with
families in need in Yamhill County. Our partner families must meet three criteria: need for decent,
affordable housing; ability to pay; and willingness to partner.
We are currently building in our Aspire Community Development, a 34-lot subdivision in
McMinnville, where we recently completed our 12th home. In 2020, we will complete three new
homes: a Shareholder Build for a hardworking family of four; a Women Build home for a single
mother of two; and a Wildcat Build for a Linfield College employee who is a single father of two.
Click here to become a sponsor, like: